Where can I buy Dogecoin?
Dogecoin is available to purchase on a number of popular exchanges, including Binance and Kraken.
If you want a regulated exchange (which you definitely should for security reasons), you might opt for eToro.
Notably, Dogecoin cannot be bought in one of the most popular exchanges, Coinbase (but you can store your DOGE there). Several online brokers such as RobinHood or TradeStation allow you to buy DOGE, along with traditional stocks, bonds, and mutual funds. You can also choose to store your DOGE in a wallet.
How to buy DOGE on eToro?
Dogecoin is one of many cryptocurrencies available on eToro, along with Zcash, Binance Coin (BNB), and Tezos. Here is a step-by-step on how to buy DOGE on eToro.
Find the search bar of eToro's home page (top centre). Search for Doge and click on "Trade".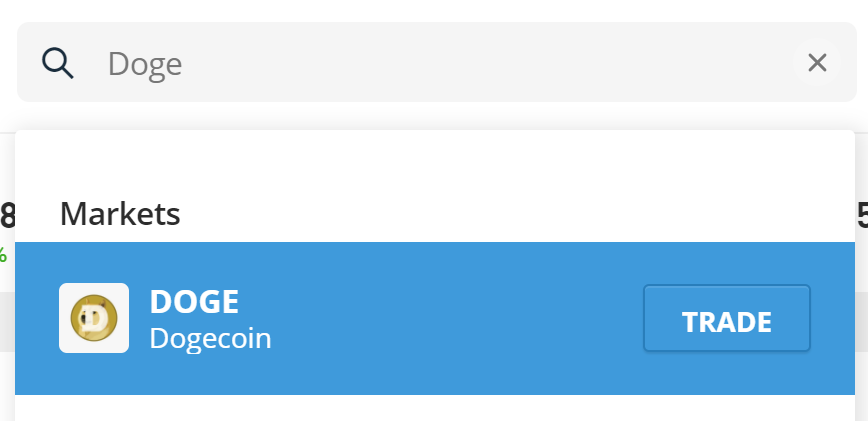 A trading window will pop up, where you can choose the amount of USD you want to spend, the minimum is $10.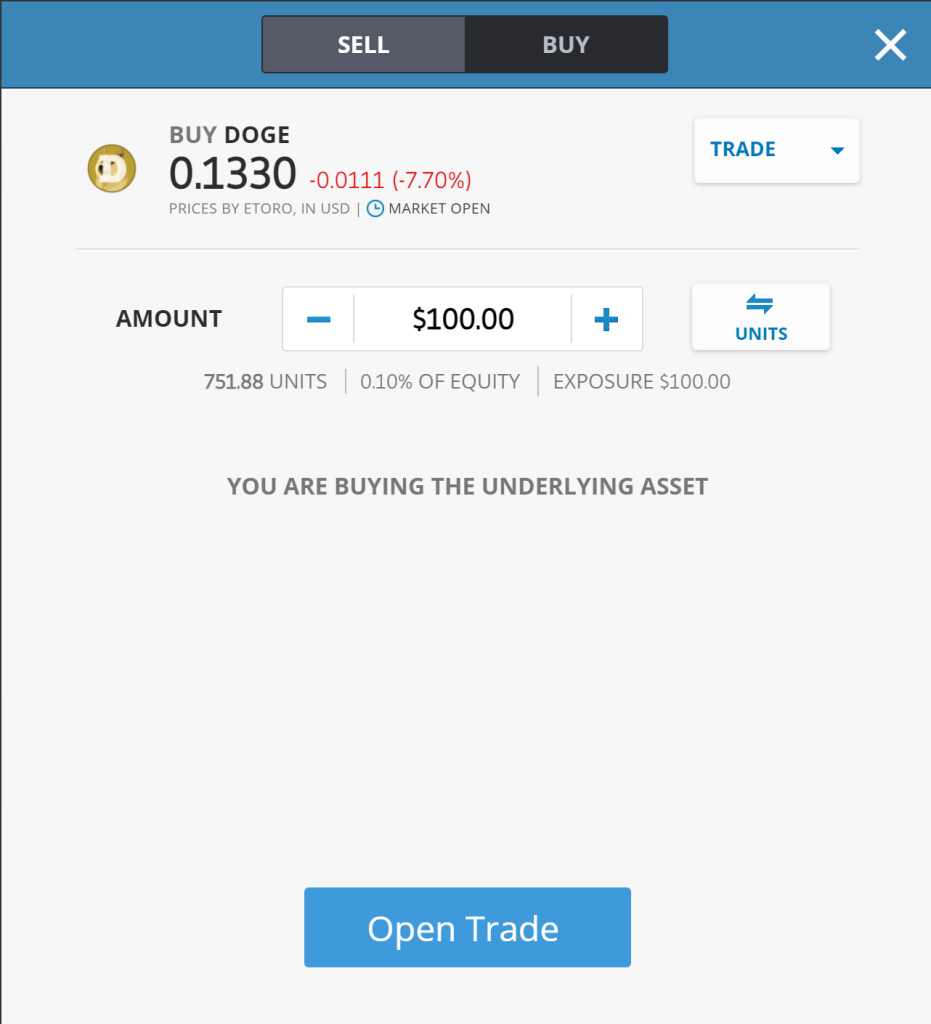 Click on Open Trade to invest in Doge. You will be able to see your order under Portfolio.
What is Dogecoin?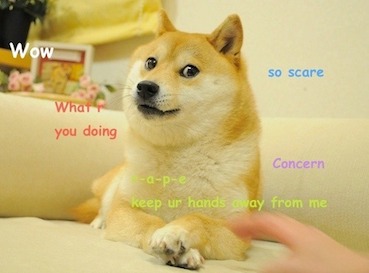 Dogecoin (DOGE), known as the "friendliest cryptocurrency", is an open-source peer-to-peer digital currency. It was created in 2013 by Billy Markus and Jackson Palmer as a joke currency to show the volatility of the crypto market. Its name and logo come from the popular Shiba Inu meme, which became known as the doge meme. Below is just one of the multitude of versions that can be found around the Web.
On their website, Dogecoin is described as "the fun and friendly internet currency". "Dogecoin sets itself apart from other digital currencies with an amazing, vibrant community made up of friendly folks just like you", the website states. The driving principles are fun and accessibility. You can learn a bit more about Dogecoin in this short video explaining the cryptocurrency.
Given its origin, it would be logical to think that Dogecoin is just one of the thousands of cryptocurrencies existing in this ever-growing market, a small currency with a tiny market cap. What you definitely would not expect is the over 20 billion market (in USD) behemoth in the top 15 cryptocurrencies, ahead of those that could be considered far more serious, such as Litecoin, Binance USD, or Bitcoin Cash. For a joke currency, it is taken quite seriously by exchanges and wallets, as DOGE is available on the majority of exchanges and numerous wallets.
What was behind Dogecoin's rise, and can it sustain it in the future? Let's take a look at how it works and its history to find out whether DOGE still has the potential to grow.
How does it work?
Dogecoin was created as a soft fork of Luckycoin, a fork of Litecoin. Just as its source forks, and any common cryptocurrency, DOGE runs on blockchain technology. New coins are created by mining ("proof-of-work"). The specific proof-of-work algorithm used in Dogecoin is called Auxiliary Proof of Work. Its distinction lies in the ability to mine DOGE along with another proof-of-work cryptocurrency (mainly Litecoin) at no extra cost, known as merged mining.
However, contrary to Bitcoin and many other cryptocurrencies, DOGE does not have a coin cap. Where, for example, there will only ever be 84 million litecoins or 21 million bitcoins mined, DOGE has no such restrictions.
Dogecoin mathematical equations are easier to solve than Bitcoin, therefore new blocks of transactions are confirmed every minute on the Doge's blockchain, compared to Litecoin's 2.5 minutes, and far quicker than BTC's 10 minutes. Dogecoin can process around 30 transactions per second, way more than 3-7 transactions per second on the Bitcoin blockchain, but almost half of Litecoins 56.
What can I use DOGE for?
The intention behind creating DOGE was to make fun of Bitcoin and its volatility. But from a technical perspective, DOGE can be used as a medium of exchange, cash, just as most other cryptocurrencies. The goal was to create something fun, but also more accessible than Bitcoin. The lack of a supply cap means that the price of an individual coin will always be small, thus ensuring accessibility. This has other advantages. Having a coin with such a small value of an individual unit makes it very suitable for tipping. And there have been many use cases of using Dogecoin to tip on Reddit or content creators on YouTube. And since the value of an individual coin is low, so are transaction fees. Naturally, a lot of people choose to purchase Dogecoin for speculative reasons, investing in it in the hopes that it will go up in price. And here is the final advantage of having a low value of an individual unit – you can purchase thousands of DOGE for a relatively small price, and even a small change in the price can mean a significant rate of return.
History of DOGE
The history of Dogecoin can be considered somewhat similar to other cryptocurrencies – it had swings, hacks, and scandals. But its history is well worth a read, as it has one of the most bizarre and entertaining stories among cryptocurrencies.
Initial idea
The initial idea for Dogecoin came from Jackson Palmer (you can listen to the story here), an Adobe software engineer. He was a fan of open-source software, but sceptical towards cryptocurrencies as he saw many non-technical people "shilling" something extremely technical. He took a look at Coinmarketcap, at the time with less than 100 cryptocurrencies, and saw that new ones were added pretty frequently. At the same time, Palmer saw that the Doge meme was becoming very popular. This gave him an idea to combine the two concepts, and he jokingly tweeted about "the next big thing" – Dogecoin. The story continued as a joke, mostly within Palmer's circles. But also got shared within the wider crypto community. One day, Palmer was contacted by Billy Markus, a software developer working at IBM, with a suggestion to create Dogecoin for real.
One thing to note is the time period between the first original tweet and Dogecoin being released. Palmer sent the tweet at the end of November 2013, and the cryptocurrency was released at the beginning of December that same year. That's mere days from idea conception to execution.
"How do we make this as ridiculous as possible?"
Both of the creators went out of their ways to think of a cryptocurrency that wouldn't make sense, with built-in economics that would actively discourage people from creating and using it. In general, something people wouldn't care about. That's why the very first iterations of Dogecoin were slightly different from the DOGE we know now.
Firstly, the coin initially had a cap of 100 billion coins. This was eventually changed in February 2018, when the 100 billionth block was mined. Since then, Dogecoin has had no supply cap.
Secondly, and this one is just crazy, the block rewards were random. This is actually the main reason why Luckycoin (fork of Litecoin, itself a fork of Bitcoin) was chosen – it had the idea of the random block reward. In a normal cryptocurrency (let's focus on proof-of-work), miners compete to solve a mathematical puzzle. Whoever solves it first, gets a block reward. This reward is determined by several factors, but is either stable or designed from the get-go (e.g. Bitcoin's rewards started at 50 BTC per block and halve every 4 years). In Dogecoin, the random block reward was set between 0 and 1,000,000 DOGE. This means that the winning DOGE miner could receive anywhere between 0 and a million DOGE for the block. That was obviously unsustainable with the coin's popularity and was eventually changed in March 2014. Currently, each mined block is rewarded with 10,000 DOGE.
December 2013: a launch, a rocket, and a hack
Some cryptocurrencies crash and burn in a matter of days, some go to the moon even quicker. But Dogecoin experienced that and more in its first month. Soon after launching, still in December 2013, merely two weeks in fact, the value of DOGE jumped 300% despite China banning banks from cryptocurrency investments. The rise was short-lived, as towards the end of the year, on December 25th, a Dogecoin wallet called Dogewallet suffered an attack, sometimes referred to as the "Dogecoin Christmas hack". 21 million DOGE has been stolen, worth around $12,000 at the time. The community came together and raised money to refund those affected. While the incident damaged the reputation of the company, the way the community came together spurred the creators to think of what other worthy causes could be fundraised for, and the Dogecoin Foundation, a non-profit, was created.
Tipping and charitable donations
Soon after, in 2014, a Dogetipbot appeared on a Reddit thread. The Dogetipbot, co-founded by Josh Mohland, interfaced with Reddit API to facilitate transactions on the website, and allowed users to tip others when commenting. The recipient could then accept or reject the tip from their inbox.
Dogecoin has several charitable achievements to its name. The most prominent event was when the community raised 26 million DOGE, worth around 25.000 USD at the time, to send the Jamaican bobsleigh team to the 2014 Winter Olympics in Sochi. The community has also created an initiative Doge4Kids and raised around 30,000 USD for 4 Paws For Ability – a charity that provides children with special needs with service dogs. Other causes include raising around 7,000 USD in DOGE to send an Indian athlete to the Olympics, Doge4Water – a project aimed at building a clean water well in Kenya, and sponsoring a NASCAR driver Josh Wise. The latter is especially interesting, as it happened by mistake. Alex Green, the founder of cryptocurrency payments platform Moolah (remember both the names of Alex and Moolah, they will make a big splash later in Dogecoin's history), has accidentally sent 20 million DOGE to support the cause, instead of the intended 2 million.
2017: Boom and bust at once
2017 was a rocky year for DOGE. On one hand, the price rallied twice that year, in May & June, as well as in December.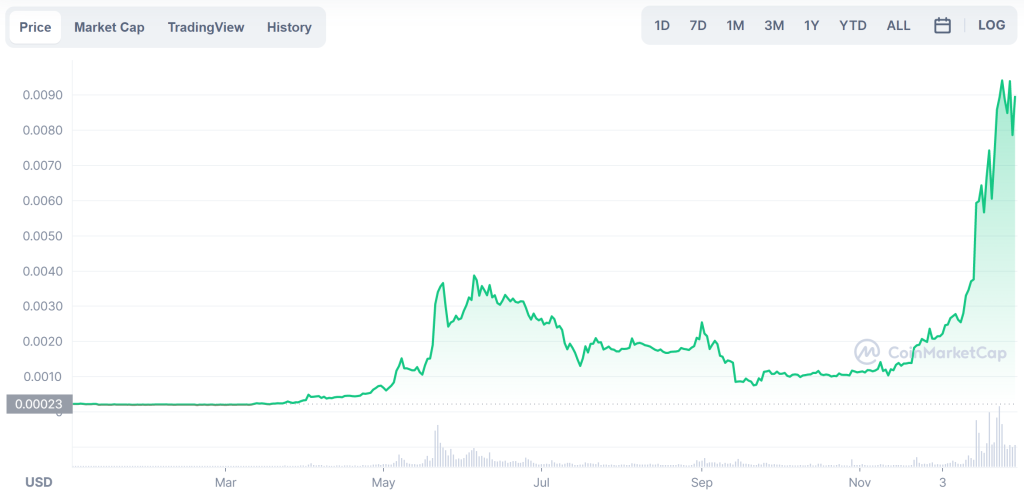 However, in Q4 2017 Dogecoin faced some serious challenges. September was not a good time for Dogecoin. The Exodus wallet had removed support for Doge due to a lack of necessary updates (e.g. source) and, most importantly, the Moolah scandal broke.
September 2017 saw the founder of a crypto exchange Moolah, Alex Green, arrested for fraud. Moolah was a Dogecoin exchange opened by Ryan Kennedy under the false name Alex Green. The exchange went bust, and it is widely believed that Kennedy/Green has stolen the money.
To add salt to injury, around the same time Josh Mohland, the creator of dogetipbot has shut down operations. He announced that his company Wow Such Business Inc. (created to run the tipping bot) went bankrupt and that the bot was dead, despite his efforts. However, he also took all the DOGE still in users' accounts.
2021: To the moon!
If we look at the whole price history of Dogecoin, May 2021, DOGE has reached an ATH of $0.7 USD. And it can clearly be seen that the 2021 rally overshadows the one in 2017 by a large margin.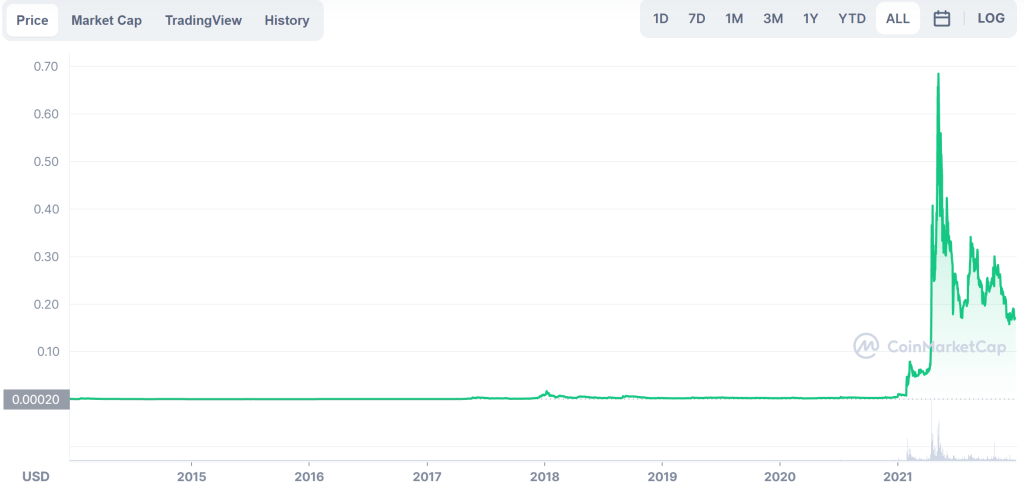 One of the forces that drove the DOGE rally in 2021 was just one person: Elon Musk. He started very openly supporting DOGE towards the end of 2020, tweeting "One word: Doge".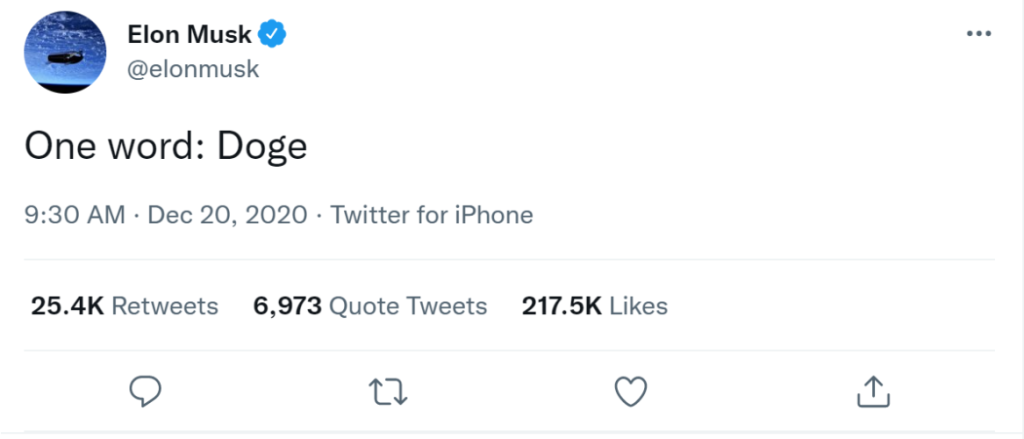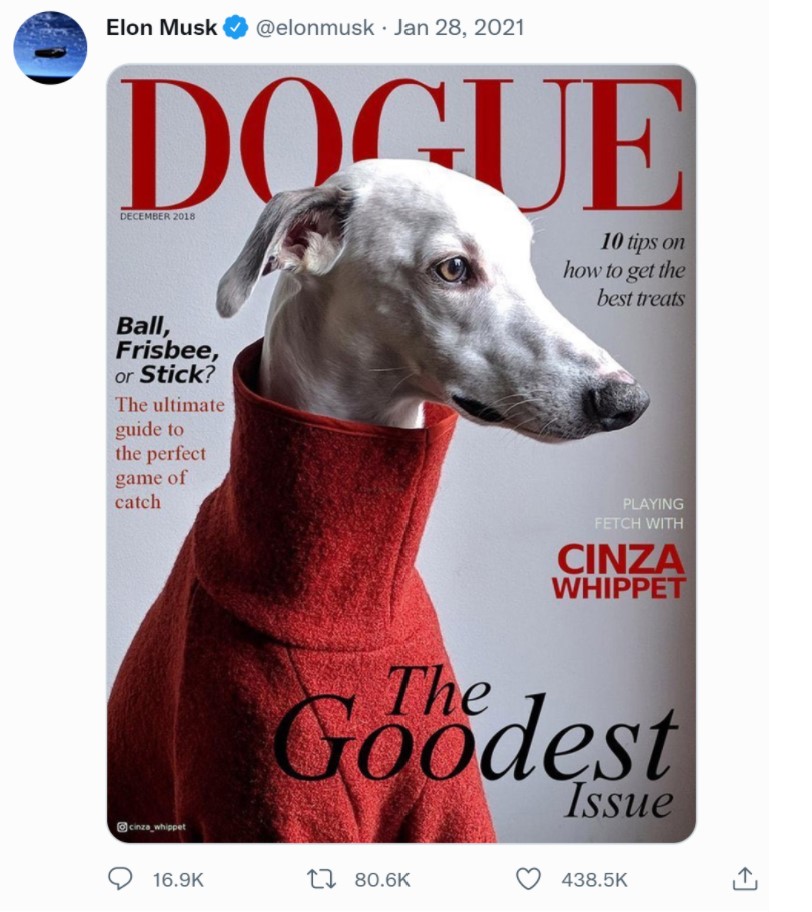 This 3-word tweet caused the price to jump 25%. But that's nothing compared to what came in January 2021, when tweeting a cover of a parody Vogue magazine, Dogue, caused the price of DOGE to surge 800%. Another tweet in April made the price surge 260%. Elon's power to influence cryptocurrency markets with simple tweets has been dubbed the "Elon Effect".
Some considerations, let's call them moon vs medium of exchange, should be made in the aftermath of the 2021 rally. Before Feb 2021, DOGE had a relatively stable exchange rate (extremely stable compared to other cryptocurrencies, perhaps with the exception of stablecoins). This meant that it was a better bet as a medium of exchange compared to highly volatile cryptos such as Bitcoin. If you pay someone 10 USD for an item, you don't want that item to be worth 12 USD by the time the payment goes through, and 5 USD a week from now due to the value of dollar changing so much. The rally pushed DOGE more into speculative investment territory. While beneficial for those who had DOGE in their portfolio, it must be mentioned that this has negatively impacted Dogecoin's ability to act as a useful medium of exchange.
Should you buy DOGE?
So, is DOGE a good investment? Some would stay sceptical, arguing that Dogecoin has a smaller mining community and therefore lower security compared to Bitcoin or Etherum. Add to this a continuous pressure on the coin's value due to the frequent entrance of new coins to the cryptocurrency stage. Additionally, the developers have changed the coin very little since around 2015.
Based on these arguments, it could be thought why putting any real money into DOGE is ill-advised.
But there are some other things to consider. True, the coin has not changed much in the past decade. This is probably due to the fact that there are only three developers and they're all part-time volunteers. So while other major cryptocurrencies are much more professional, they are also much more commercialised. The strength of Dogecoin does not lie in its technology. The biggest advantage of DOGE and the main argument for investment is the community behind it. The Dogecoin community really does seem to reflect the values behind the coin – fun and accessibility. The community is known to be friendly and even give away small amounts for others to adopt it. For some, DOGE may have actually been their first cryptocurrency, instead of Bitcoin. The community has stood behind Doge for years, through the dips, scandals, and hacks. And apparently it includes some big names, such as Carole Baskin, the star of Netflic's "Tiger King", Gene Simmons, co-lead singer of Kiss, Mia Khalifa, former adult film start, Snoop Dogg and Lil Yachty, American rappers. The demand for a currency also depends on where you can spend it, and DOGE actually has merchants who support payment in this cryptocurrency from different sectors, including food & drink, fashion, e-books, services, and more. These factors would suggest that demand will not be an issue for DOGE anytime soon.
Conclusion
In order for a cryptocurrency, or any other asset or product, to be successful, it needs to be better at something than the other solutions on the market. Cryptocurrencies compete on several planes such as speed, scalability, or a unique technological solution to a problem. But Dogecoin and other joke cryptocurrencies are different. People invest in them to get in on the joke, usually because they've heard that some cryptocurrency is doing well, or is doing something funny. And Dogecoin definitely did deliver in the fun department.
Comments