Crypto brokers – an easy way to trade cryptocurrencies
If you like to buy and sell cryptocurrencies in an easy way, you will need a crypto broker. On this page, you will find reviews of top crypto brokers. Whether you're an experienced trader or just beginning, you will find a perfect broker for you here.
Trade cryptos with eToro
eToro is a leading multi-asset investment platform for CFDs, stocks, crypto and is a leading broker for copy trading. Besides spreads, eToro does not charge you any deposits or trading fees. It is regulated in the UK, Cyprus and Australia, and boasts 10 million registered users.
eToro product offering
eToro is a leading multi-asset investment platform for CFDs, stocks, cryptocurrencies, and copy trading. It is regulated in the UK, Cyprus and Australia, and boasts 10 million registered users.
In 2018, eToroX has been launched to bring Blockchain and tokenized assets to the masses and it is now a global crypto broker. A wallet is now also a part of its product offering. Therefore, we thought that it might be useful to create an overview of the full eToro's product offering.
Exchange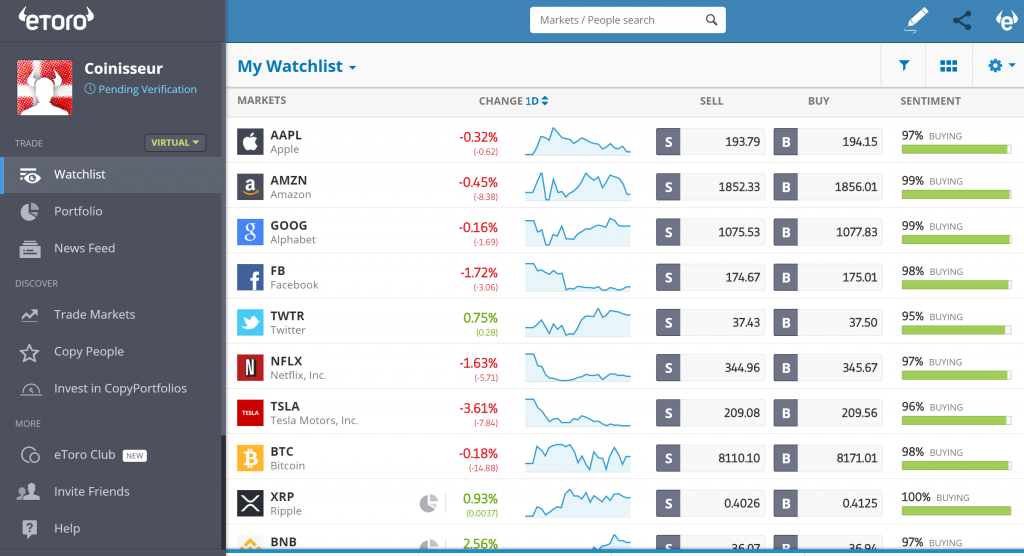 The exchange is the first and best-known offering of eToro. It is a leading trading platform and crypto broker, with a variety of tradable assets, including commodities, crypto assets, currencies, indices and ETFs. When trading stocks, there is no commission.
You can invest in 15 different cryptocurrencies: Bitcoin (BTC), Ethereum (ETH), Bitcoin Cash (BCH), Ripple (XRP), Dash (DASH), Litecoin, (LTC), Ethereum Classic (ETC), Cardano (ADA), IOTA (MIOTA), Stellar (XLM), EOS (EOS), NEO (NEO), Tron (TRX), ZCash (ZEC), and Binance Coin (BNB).
You can also trade multiple crypto/fiat pairs, with a quite broad choice of fiat currencies including the British Pound (GPB), Euro (EUR), Swiss Franc (CHF), Canadian, New Zealand, and Australian Dollar (CAD, NZD, AUD), and Japanese Yen (JPY). Various crypto/crypto pairs are also available, for example, ETH/EOS, EOS/XLM, BTC/XLM).

Overall, eToro offers 15 cryptocurrencies, 15 crypto/crypto pairs, and 62 crypto/fiat pairs as a crypto broker, totalling 92 different choices when it comes to trading cryptocurrencies.
Useful features
An extremely useful feature is the virtual account. This option is especially relevant to newbie traders, as they can make trades with virtual (fake) money, but using real data. This gives a great learning space where one can get familiar with all the assets and opportunities that the eToro platform offers.
A feature that made eToro popular is copy trading, where simply clicking "Copy" will automate your trades in line with your chosen trader. We have shared top tips from one eToro's popular investor Janemesis here. The minimal amount needed to copy a popular investor is 200 USD.
eToro has made a tutorial on how to use this feature:
Towards the end of 2018, eToro has introduced CopyPortfolios. These are ready-made portfolios comprised of several assets, markets, or traders that will copy them based on a predetermined investment strategy. The minimum amount required to invest in a CopyPortfolio is 5000 USD. When using eToro as a crypto broker you will have three types of CopyPortfolios to choose from:
Market Portfolios – created around a given idea or performance metric. Examples of Market Portfolios include a cryptocurrency one (dubbed "Crypto takeover"), which follows the assumption that cryptocurrencies will overtake contemporary banking solutions. This portfolio is long on cryptos and short on major banks. Other Market Portfolios include categories such as Renewable Energy, Mobile Payments, Big Tech, or CRISPR-Tech. In these portfolios, top-performing assets are chosen by an algorithm.
Top Trader Portfolios – a trader-only portfolio. Traders are selected based on CopyPortfolio's strategy.
Partner Portfolios – the most recent addition to this offering. These portfolios have been created by eToro partners around a specific strategy. This option might be interesting for more experienced traders who are already familiar with different investment strategies and know which one fits them best.
Fees
All information relating to fees (and market hours) can be found on eToro's dedicated site here. Make sure to take a look before you start trading.
In short, besides spreads, eToro does not charge you any deposits or trading fees. Fees also don't apply to non-leveraged BUY positions on individual cryptocurrencies.
Be aware that leveraged BUY positions, all SELL positions, all crypto pair positions, as well as overnight/weekend CFD positions do incur fees.
If you are a currency trader, be sure to check the conversion fees. It also might be useful to keep the inactivity fee in mind – if an account has been inactive for 12 months (no login), 10 USD will be deducted from the remaining balance every month. Logging in will stop the fee.
When it comes to withdrawal, the minimum withdrawal is $50, and the withdrawal fee is $25.
If you would like to know eToro's exchange's full product offering, which includes stocks, commodities, and cryptocurrencies, you can read Coinisseur's review of the eToro crypto broker platform here.
eToroX
eToroX is the digital asset subsidiary of eToro. Just as eToro wanted to make it easy to trade and invest for normal people, eToroX aims to bring tokenized assets and Blockchain to the masses. It's the Blockchain arm of eToro that focuses on building decentralised projects and applications and this is what makes eToro a real crypto broker.
Although eToro and eToroX are somewhat the same, the client base is different. The rates on eToroX are more attractive to some customers.

There has not been much marketing around eToroX, and the team around this crypto broker is currently working on expanding the product offering. Everything on eToroX is tokenized, and hence it has to obey certain regulations.
Just as the other platform, eToroX aims to be regulated. It is currently available to verified users only.
Wallet
The wallet is a regulated product, the latest of eToroX. It is a separate application from the platform, but it integrates with it. Only a mobile version is available right now.
You can transfer cryptocurrencies from the exchange directly into the wallet of the crypto broker, transfer funds between wallets, or just use the wallet to store your cryptos.
Currently, there are several cryptocurrencies available: Bitcoin (BTC), Ethereum (ETH), Bitcoin Cash (BCH), and Litecoin (LTC). This is already more than some of the other wallets on the market. Moreover, as eToro continually works to improve their offering, it stands to reason that there will be more cryptos coming soon.
If you are an existing and verified user of eToro, you can already download the wallet. The accounts are linked, to avoid the need for additional passwords. This means that you don't have to write down or remember more private keys. Two-step verification and multi-sig are available to make the wallet as safe as possible.
Be sure to familiarize yourself with wallet fees before you start using it. The two you should definitely be familiar with are eToro fees (spreads), and blockchain fees (transfer fees, dependant on a given cryptocurrency).
GoodDollar


The GoodDollar experiment is an open-source, non-profit project based on Blockchain. By following the principles of Universal Basic Income (UBI), where each person is guaranteed a basic income, it aims to decrease global inequality.
We have mentioned GoodDollar in our article on crypto-UBI models.
Sounds interesting? You can easily open an account on eToro here. If you run into any troubles, refer to our article on How to open an account on eToro?
Markets.com product offering
Founded in 2008, Markets.com works under Safecap Investments Limited ('Safecap') – a subsidiary of Playtech PLC which is traded on the London Stock Exchange and is a part of the FTSE 250 Index.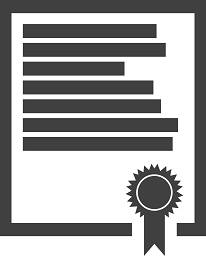 Markets.com is a well-known lending and crypto broker for forex and CFD (Contract for Difference) trading. With over 5 million registered trading accounts, Markets.com could definitely be called popular. There are a lot of languages available: Arabic, Chinese, Dutch, English, French, German, Italian, Japanese, Norwegian, Polish, Romanian, Russian, Spanish, and Turkish. You will also be happy to hear that there is no commission on Markets.com. However, they make money on spreads, which are still quite competitive. If you find a broker with lower spreads, check their commission and calculate which option would be better for you.
Be aware that some nationalities can't sign up (e.g. the US, Turkey, Canada, China, New Zealand, Russia, South Korea). You should also keep in mind that there is an inactivity fee of 10$ per month after 3 months of inactivity.
As a crypto broker, Markets.com offers the following cryptocurrencies: Bitcoin (BTC) Futures, Ripple(XRP), Ethereum(ETH), Dash (DASH), Bitcoin Cash (BCH), and Litecoin (LTC).
Demo account
Every user gets access to the demo account, which includes all the features of the platform, with the only difference being that no real money is traded. Each demo account is credited with $10 000 demo-money. Users can easily switch between demo and real accounts. The demo account, as well as the real, is also available on mobile.
Best features of Markets.com:
No commission
An extremely vast number of assets to choose from various asset classes (over 2000), including several major cryptocurrencies
Good for beginners (minimum investment $100, $250 for MarketsX)
Low withdrawal minimums (10-20 USD/EUR/GBP, 100 USD/EUR/GBP for wire transfer)
No withdrawal fees (but you have to withdraw the same way you deposited)
You can read the full review of Markets.com platform here.
As a user of Markets.com, you can also make use of MetaTrader 4 and MetaTrader 5. In that case, you can use Markets as your crypto broker and feed the data from Markets into MetaTrader.
MetaTrader 4
MetaTrader 4 can be connected to your crypto broker and is a platform specifically for forex trading. There is a large number of indicators to choose from, advanced technical analysis, a flexible trading system, algorithmic trading, as well as Expert Advisors.
MetaTrader 4 offers interactive charts with 9 time periods, 23 analytical objects, and 30 built-in technical indicators. If you know a bit of coding, there is a large Code Base you can choose from to add indicators and improve your analysis even more.
MetaTrader 4 is also available as a mobile application.
MetaTrader 5
MetaTrader 5 is a multi-asset platform, offering trading in Forex, Stocks, and Futures and cryptos that can be connected to your favorite crypto broker. The system includes market depth and supports both netting system and the hedging option accounting systems as well as 4 executions modes (Instant, Request, Market, and Exchange execution) with any type of order you can think of.
When it comes to technical analysis MT5 offers 21 timeframes, over 80 indicators and analytical tools. Similarly to MT4 MetaTrader 5 has Code Base. You can also purchase or rent one of the over 2500 ready-made algorithmic applications, make your own indicator with the MQL5 programming language, or order a custom one via the Freelance service. When it comes to fundamental analysis, there is an economic calendar and international news and reports are streamed right into the platform.
If you do not have any programming knowledge, algorithmic trading (trading robots) is a perfect solution for you. There are some free trading robots to choose from, but you can also rent or purchase one from thousands of applications available on the platform or order a custom one. If you are not an experienced trader, copy trading might be a solution for you. You can subscribe to a signal of a successful trader, choosing your level of risk and profitability, and the system will automatically copy his trades for you.
If you're a Forex trader, you might be interested in renting a VPS – Virtual Private Server. Using a VPS allows you to reduce your slippage, as a VPS executes your trades faster than your computer. It's a perfect solution for round-the-clock trading, even when your computer is turned off, and might be especially interesting for you if you rely on automatic trading. It requires no configuration. The VPS service is available for both MetaTrader 4 and MetaTrader 5. It costs $10 per month (you can try it out for 24 hours). For that, you receive 3 GB of RAM, up to 16 GB of disk space and several CPU cores.
Just as MetaTrader 4, MT5 is available in a mobile version.
MarketsX
The new service from Markets.com, MarketsX is aimed at high-net-worth and professional traders. The platform is described as "The same great platform you'd expect from MARKETS.COM, with next-level service, tools and spreads." You will also be able to trade cryptos as CFD on MarketsX.
Playtech is investing heavily in MarketsX in order to offer premium service. They leverage their liquidity and clearing partners in the TradeTech Group and their in-house technology for trading to provide immediate trade execution and lowest spreads possible. Investment also goes to improving charts and tools to satisfy the needs and expectations of the professional traders. The new Knowledge Centre will give users access to insights and analysis created by both the in-house team and third parties.
There are several things that set MarketsX apart. You can build your own ETF by combining products tradeable on the platform (more than 2200 instruments to choose from), get insight into the positioning of hedge funds, get interactive access to experts straight from the platform (for example, you can do a live session with an analyst from Markets), or take advantage of other service-on-demand offerings. And don't forget one of the lowest spreads available.
In order to join MarketsX, you have to deposit 250$ (or equivalent in local currency).
One of the safest brokers
Markets.com is regulated in several countries. As mentioned at the beginning, it operates under Safecap Investments Limited – a Cyprus Investment Firm, regulated under the Cyprus Securities and Exchange Commission (CySec) (license number 092/08). This regulator covers most countries where Markets.com offers its services, including Europe.
Safecap applies a number of technical safeguards to protect its data systems. These include: firewalls and Secure Sockets Layer (SSL) are used to protect information during transmission and data transfers between server machines, Level 1 PCI certified international payment service providers handle all financial transactions, all trading servers are located in certified data centres, and all communication between Safecap Investments Limited clients and data servers is encrypted.
When it comes to safety, it should also be mentioned that Safecap is a subsidiary of Playtech plc, which is listed on the London Stock Exchange and is part of the FTSE 250 Index (ticker PTEC). As a publicly-traded company, Playtech must regularly disclose information about its financial health.
Here is how Markets.com is regulated globally:

Regulation means that your funds are protected. To comply with regulatory requirements, Markets.com has to keep all customer funds in separate bank accounts. Should the company become insolvent, they cannot use customers' funds to cover their losses. Additionally, if the company goes under, your funds are protected up to €20,000 under the Investor Compensation Fund.