Binance is one of the best-known crypto-exchanges, the platform is under constant development and has experienced enormous growth due to a steadily increasing number of users. It allows you to trade a variety of cryptocurrencies, and new ones are always coming. Binance has launched its own coin, BNB.
Binance was founded in July 2017 by a few entrepreneurs under the leadership of Changpeng Zhao (see for example this interview with Bloomberg). Originally, Binance had its headquarters in China, but after the country had imposed restrictions on cryptocurrencies, the company moved to Hong Kong and Tokyo. It is now present in many other countries and services customers from over 180 nations.
Binance is not a traditional regulated exchange/trading platform, which is important to keep an eye on, as you don't get the same level of investor protection as you would get by trading via traditional trading platforms or a bank that is subject to strict financial regulations.
The way you trade with Binance differs from other exchanges you may know. It is not possible to transfer cash to use for trading. Instead, you have to transfer e.g. Bitcoin (BTC) or Ether (ETH) from another wallet you own, and only then can you start trading on Binance. It is important to point out that the transferred coins can no longer be found in a personal wallet with a private key, but rather with Binance.
The reason for it applies to all crypto-exchanges – with an exchange the intention is to trade quickly, which means that you can't wait on slow transactions that have to be approved by numerous approval mechanisms (private keys, etc.). The transferred coins are used to pay for trading with other cryptocurrencies, i.e. you actually trade individual cryptos in the same way you trade fiat pairings, e.g. EUR/USD. If you wish to trade Ripple, for example, you can trade it as XRP/BTC or XRP/ETH.
In case you don't have a wallet with bitcoins or ether, we would recommend opening an account with Coinbase and transfer cash into it, which can then be exchanged for bitcoin or ether. We would recommend ether over bitcoin, as the latter has a slower transaction speed. The ether that is stored with Coinbase can be transferred to your account with Binance. Transfers between the two are cleared easily. We have made detailed instructions on how to open an account with Binance and transfer funds.
Platforms and design
Binance offers two different web-based trading options – Basic and Advanced editions. The two platforms can be accessed under Exchange at the top of the menu on the homepage. Besides the two web-based platforms, Binance also offers trading apps for Apple iOS, Android, and Windows that can be installed on a PC.
Below you can see a screenshot of the Basic platform that appears in a locked format. On the left, many crypto-pairs are shown and ready to be traded. In this case, it's BNB/BTC. BNB is Binance's own cryptocurrency that can be traded for Bitcoin. On the left, you can also see the ledger of the chosen cryptocurrencies – sell orders above, and purchase orders below. In the middle, the daily graph shows price developments of chosen cryptos. The graph shows both volume and a MACD indicator that shows whether a given cryptocurrency is overbought or oversold.
Buy and sell orders are inserted under the price chart, where you can indicate the price and amount you want to trade for. Out to the right, there are price developments of various other crypto-pairs, together with oversight of the latest trades in the chosen crypto-pairs. Open orders can be seen at the bottom of the screen.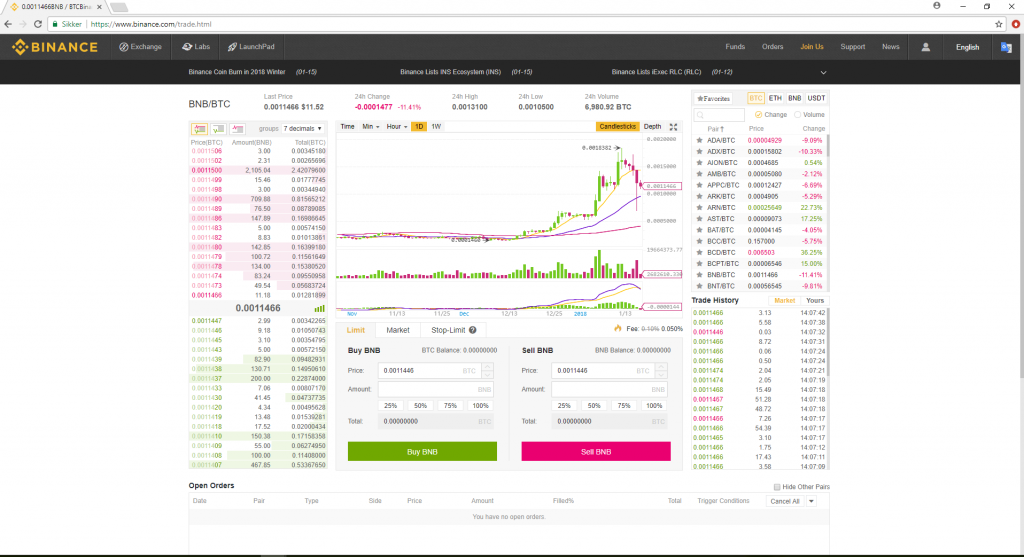 The advanced platform with a black background, that can be seen below, makes it possible to apply various technical indicators, such as Bollinger bands, RSI (Relative Strength Index), and EMA. Additionally, one can see market depth presented graphically.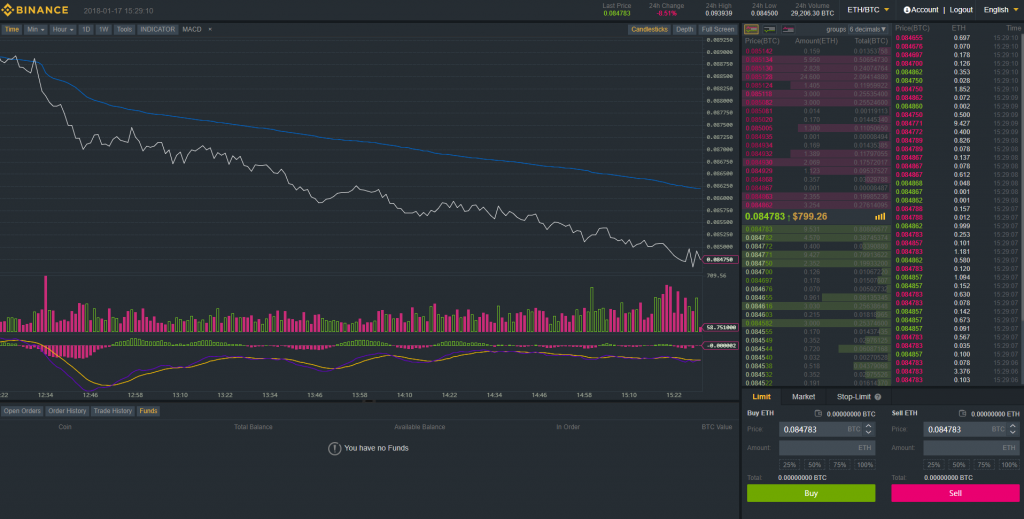 Whether you prefer this or the other web-based platform is rather individual, but if you wish to use various technical indicators, trend lines etc., you should use the advanced one. The Basic platform may seem more work-friendly, but basically, the two do not differ significantly from each other. For example, ordering looks the same for both, as shown below.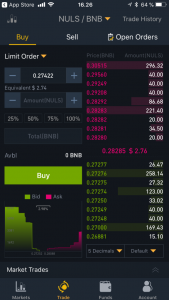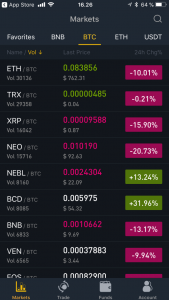 On a smartphone, it quickly becomes too small if you don't have a big enough screen. With a mobile version, it's possible to see the price developments, keep track of their positions, trade, and transfer coins, which is naturally necessary in a world, where the prices move so extremely in a short time.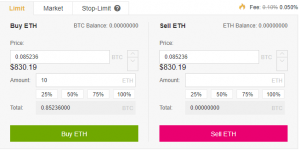 Placing orders
It is possible to submit buy and sell orders with Limit or at a market price in an order book for individual crypto-pairs. Using an order book to trade looks the same as trading common stocks directly on the exchange. In comparison to for example a CFD platform provider, Binance is not a counterparty in the individual trades. On the other hand, there are other customers on Binance, which is why individual trades have to first match in the order book before a trade is executed. In the example above you can see a limit order, where one wishes to buy 10 ETH for approximately 0,085 BTC corresponding to circa 636 USD at the current (30th May 2018) price. If the order results in a trade, a fee of 0,1% is charged. In this case, it is equal to roughly 83 cents. It's possible to cut this fee in half – see below under the description of Binance's pricing structure. Instead of stating an amount, it is possible to indicate which percentage of one's BTC you wish to use to buy ETH – 25%, 50%, 75%, and 100%.
Placing orders takes place in the same way, regardless of whether you use Basic or Advanced platform. Recently it also became possible to place a so-called Stop-Limit order, which will be executed at a fixed price (or better) after a given stop price has been reached. When the given stop-price is reached, the entered stop-limit order becomes a limit order to either to buy or sell at the limit price or better. You can read more here.
You have to trade individual cryptocurrencies against for example BTC or ETH, which can seem a bit confusing. Luckily, the trading value is also displayed in USD. In any case, it is something that takes some getting used to. Additionally, you should also be prepared that the prices of both purchased and sold currencies can change, which can muddy the picture, especially if you are a beginner. While price developments of many cryptocurrencies have a tendency to move in tandem, it is not always a given.
Product range
Binance has distinguished itself with a wide range of available cryptocurrencies, which means there is also a possibility to trade many of the smaller and newer currencies. As said, one trades individual currencies for either BTC, ETH, or BNB – Binance's own cryptocurrency. Moreover, you can trade chosen cryptocurrencies for USDT (Tether). The table below shows a long list of available cryptocurrencies, including for example Ripple (XRP), Cardano (ADA), Neo (NEO), MIOTA (IOTA), Zcash (ZEC), etc. The third column shows price change in the last 24 hours, which clearly shows the volatility of the coin. For many cryptocurrencies, the development reaches double digits, which you have to keep in mind if you want to trade cryptos.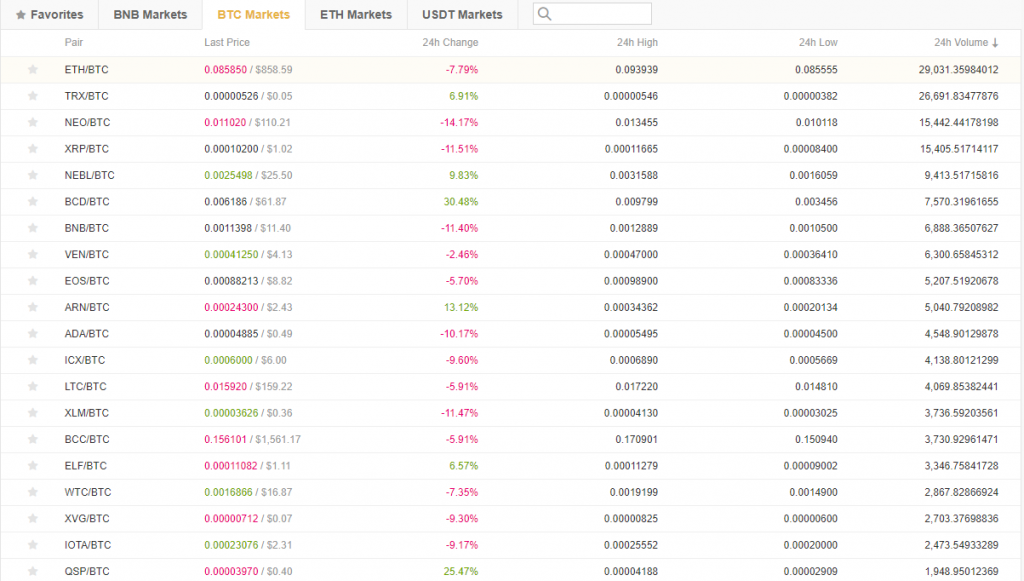 Prices
Binance charges a trading fee of 0,1% of the trade's worth. If you are in possession of Binance's cryptocurrency, BNB, you can get a discount on the fee – up to 50% in the first year, see more here.
It doesn't cost anything to transfer coins from your wallet to Binance. When you wish to transfer coins back to your wallet, a fee is charged. You can see an overview of the fee structure here.
Deposit and withdrawal of funds 
As mentioned above, you first need to transfer for example bitcoins to Binance in order to be able to trade available products. The transfers themselves are easy. Here you can access instructions on how to register as a user on Binance and trade.
Withdrawal to Coinbase, or another Wallet that the system remembers, is quite easy. Naturally, you should be absolutely sure that the address you're transferring to has been put in correctly, otherwise, you risk that every coin will be lost. The one to blame for this is not Binance, but instead, the way that the crypto trade functions.
Customer Service
Binance has English speaking support around the clock. It's possible to contact Binance by sending a message (Submit request), chat online, or send an email. See how here.
Binance has released a comprehensive FAQ, where you can get an answer to a number of questions, as well as read about for example security.
Security
As already pointed out, it is very important to mention that if you wish to trade on an unregulated exchange such as Binance (which also applies to other competitors on the market), you should be aware of the uncertainty that follows.
The uncertainty especially relates to the question of whether people behind a given exchange can be trusted. In case something happens, a hacking attack, for example, you have no possibility of getting help from the authorities.
We have no knowledge of a situation with Binance where due to a hacker attack the customers lost some or all of their holdings. Which is not to say that it can't happen. Since the inception of cryptocurrencies, a long list of crypto-exchanges have been exposed to various hacking attacks. A good advice is then to ensure that you diversify your coins across different wallets/crypto-exchanges, and not hold too much in one place. Another way to avoid or at least minimise this risk is to trade the coins using financial contracts, which can be done on various regulation-approved trading platforms. However, it's usually possible to trade only the biggest cryptocurrencies in this way.
Conclusion
If you can live with the risk that inevitably follows when you choose to trade cryptocurrencies on unregulated exchanges, Binance is an excellent starting point. Not least due to a wide variety of available cryptocurrencies. Moreover, transfer and withdrawal of coins go smoothly and easily. On the other hand, the fact that you have to trade individual currencies against bitcoin or ether may take a little practice. It should also be pointed out that Binance is relatively complicated if you simply wish to quickly trade the biggest cryptos like bitcoin or ethereum. Trading with contracts goes smoother. But if you wish to trade more "nerdy" coins, Binance is the place for you.
Comments