eToro is one of the most popular trading platforms. The wide variety of offered products, including cryptocurrencies, brings in investors with all levels of trading expertise, from newbies to experts. eToro is known for its cope trade feature, where you can easily copy the trades of popular investors. Newcomers to trading will also appreciate a virtual account, where you play with real numbers, but fake cash.
eToro is the world's leading brokerage platform for social and copy trading.
A 1000 different products are available on eToro, divided into 12 stock indices, 7 commodities, 53 ETFs, 49 currency pairs, including several cryptocurrencies (e.g. Bitcoin and Ethereum). Leverage of up to a 100 (leverage degree differs for some assets) is available. In our opinion, eToro is the best regulated exchange. You can join eToro here
Step 1: Sign-up
Go to eToro's website, and click on "Join Now". You can't miss it.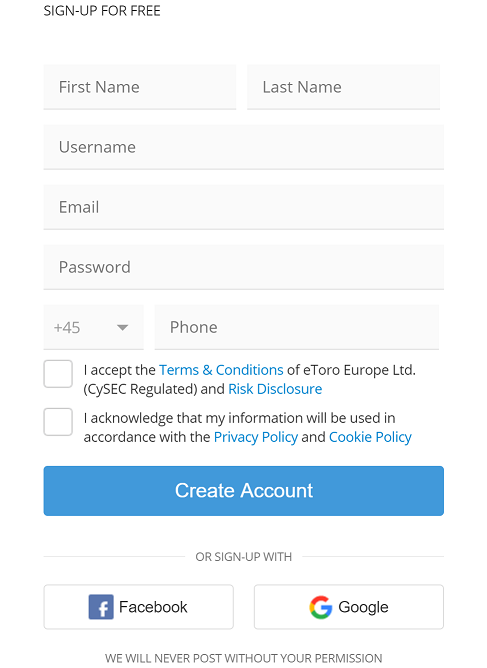 Fill out the form with the requested information. After clicking "Create account" a window will appear prompting you to check your mail for a verification email, like so: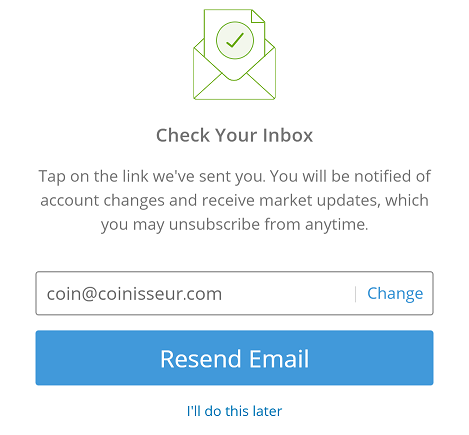 Step 2: Completing your profile
Without completing the profile, your maximum deposit is 2,000 euros.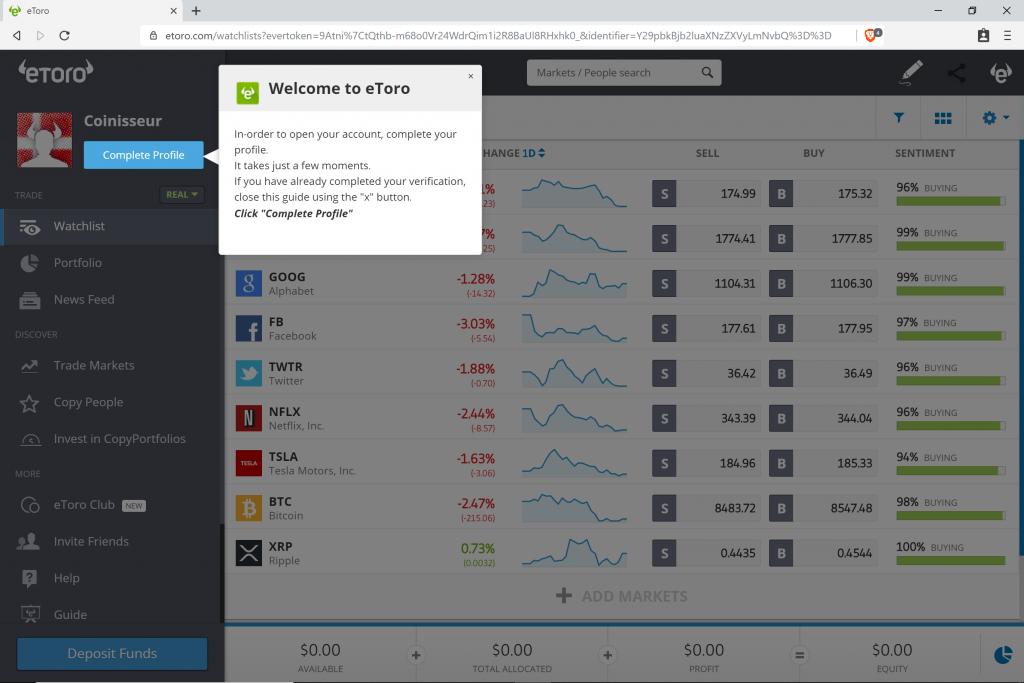 Click on "Complete Profile" in the top left corner, and a pop-up window will appear asking you for some personal information, such as name, birthdate, address, national number.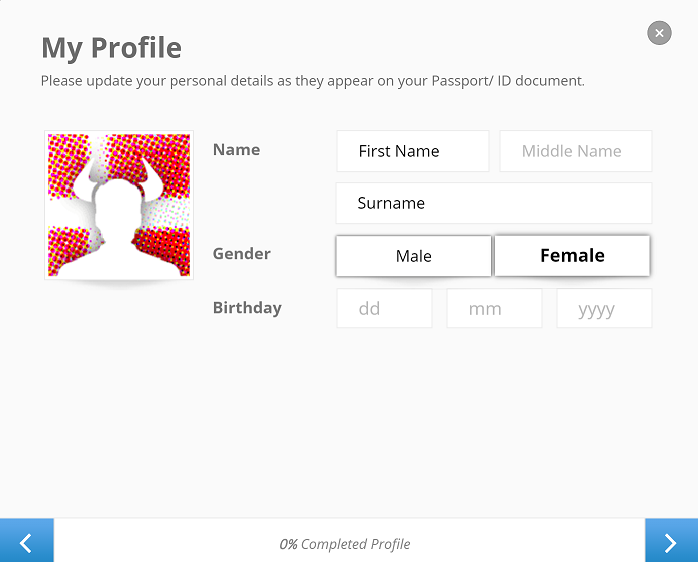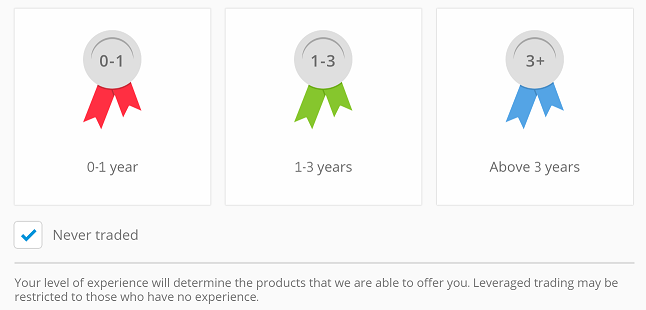 eToro also asks you for your expertise level when it comes to trading, as it affects which products they can offer you (for example, leverage may be restricted to complete newcomers). You have a choice between 0-1, 1-3, and 3+ years. If you have never traded before, you have the option to tick "Never traded" box.
You will also have your trading knowledge shortly assessed.
eToro also asks:
What you want to invest in, you have the choice of stocks, crypto, currencies, commodities, and indices. You can select some or all of the options.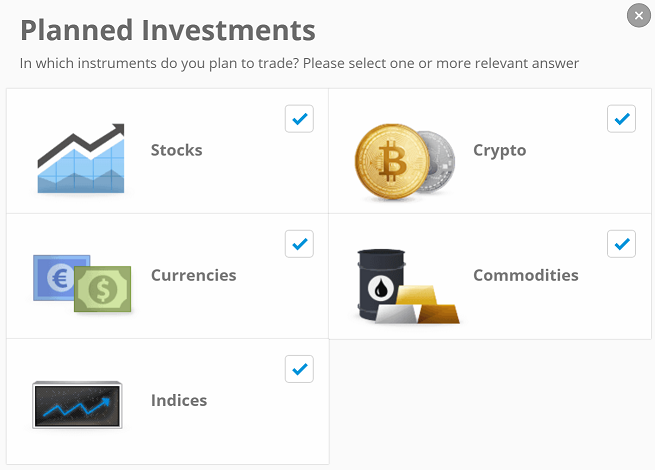 Purpose of trading. Choose between Short term returns, Additional revenues, Future planning (education/retirement), Saving for a home
Attitude to risk. Choose how much you want to invest, and your ideal risk/reward scenario.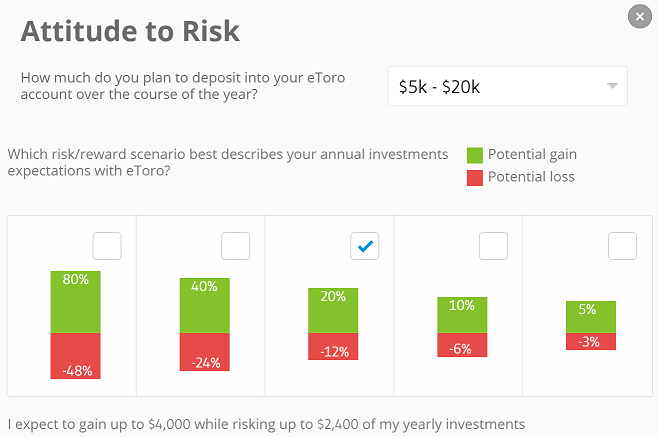 The platform also needs to know whether you or your immediate family are a director or hold more than 10% of a publically traded company, are employed by a brokerage or securities exchange, or are a high level elected or appointed public official. This is not relevant to most people
Financial Status – what are your sources of income you wish to use on eToro, occupation, employer, net annual income, and total cash and liquid assets. The information is strictly confidential, and the reason for this window is that eToro has to ensure that their clients do not invest beyond their means
Step 3: Verifying your account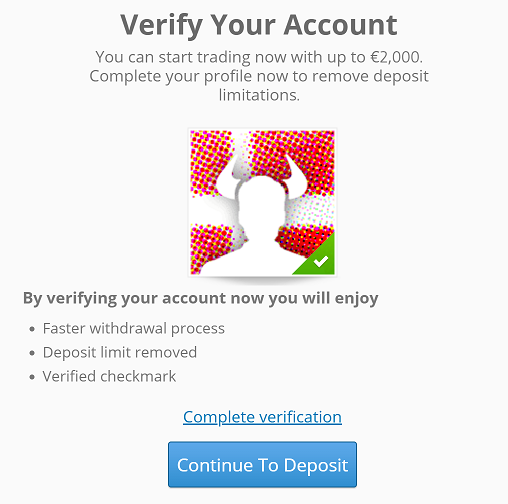 You can choose to verify your phone, and you must provide proof of identity (POI) in the form of a passport or national ID and proof of address (POA).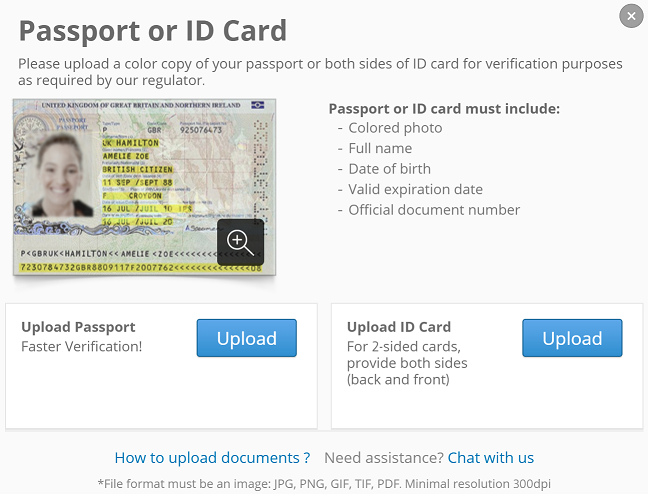 You can prove your address with a variety of documents, such as bills (gas, tax, internet, etc.), bank or credit card statements, or an official renting agreement. eToro provides information why do they need the documents, which documents do they accept, and how to send them the required information (formats, picture requirements, etc.) – you can find this information here.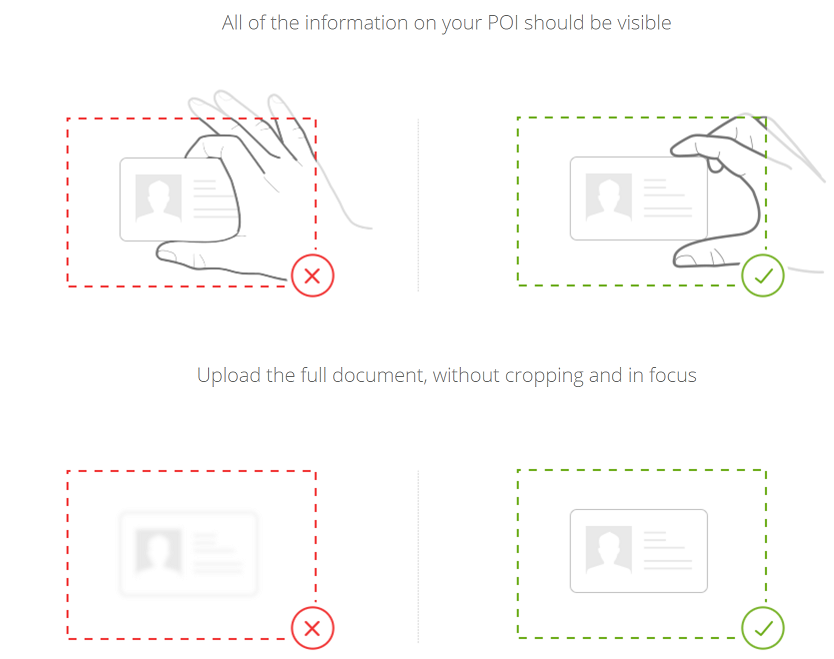 Step 4: Wait to get verified


Until your account is verified, you can trade up to (deposit maximum is) 2,000 euros.
It takes up to 3 business days to finalize the verification of your account.
eToro will contact you by mail if they require more documents, and when your account is verified. You can check the status of your account on the main page.
At eToro you can trade 49 currency pairs, including several cryptocurrencies.
Join eToro
And that's it! You can now enjoy one of the most popular trading platforms.
Comments