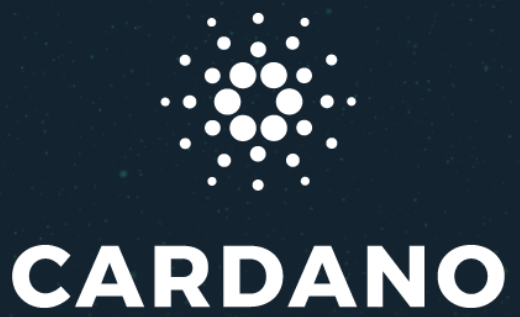 Cardano (ADA) is in the process of testing its next version, Shelley, which many see as a signal of a price hike in the coming weeks. Therefore, it might be useful to take a look at Cardano, what it is, what sets it apart, and how good of an investment is it.
Cardano (ADA) is one of the top cryptocurrencies, usually around 10th (just above or below). It has a market cap of almost 2 billion dollars and around $160 million in daily volumes. It is currently available on over 30 exchanges, including eToro.
eToro is the world's leading brokerage platform for social and copy trading.
A 1000 different products are available on eToro, divided into 12 stock indices, 7 commodities, 53 ETFs, 49 currency pairs, including several cryptocurrencies (e.g. Bitcoin and Ethereum). Leverage of up to a 100 (leverage degree differs for some assets) is available. In our opinion, eToro is the best regulated exchange. You can join eToro here
Why care about the Shelley update of Cardano? It will the most decentralised blockchain network after the update is implemented. With a focus on (academic) research and transparency, the team has had a dedicated following since the beginning. After the update, Cardano will become a true "Ethereum killer".
What is Cardano?
Created by Input-Output Hong Kong (IOHK), and Ethereum co-founder Charles Hoskinson (who also co-founded IOHK), Cardano is a public, open source blockchain that supports its native Ada cryptocurrency. Cardano has evolved out of a research-driven approach and scientific philosophy. It focuses a lot on proper research, peer-review, and transparency – all relevant documents are always released to the public.
Cardano is being developed by three organisations: IOHK, Cardano Foundation, and Emurgo. IOHK is a technology company that builds cryptocurrencies and blockchains for government and academic institutions, as well as corporations. It is responsible for developing the technology, and supervision of the development of the Cardano platform. Cardano Foundation, an independent entity based in Switzerland, focuses on Cardano's protocol technology, namely its standardisation and promotion. Emurgo is affiliated with IOHK, and it focuses on driving commercial adoption of Cardano.
The team has created a new Proof-of-Stake consensus algorithm, which it dubbed Ouroboros (are you curious where all the names come from? Check out this Hackernoon article). The new Ouroboros consensus protocol is aimed to be implemented with the Shelley update this summer. It is the first protocol of this kind to be mathematically shown to be provably secure.
Cardano also has its own wallet called Daedalus.
Want to know how does Cardano compare to similar platforms like Ethereum, NEO, and EOS (all can be traded on etoro!)? Read this article.
At eToro you can trade 49 currency pairs, including several cryptocurrencies.
Join eToro
First Byron, then Shelley
Byron is the first version of Cardano, released in September 2017. It includes the ability to transfer Ada coins, as well as a light wallet and a desktop wallet. During this initial stage, focus also fell on building a community around the Cardano ecosystem.
Shelley will be the second version. There are two main goals of Shelley: introduction of Ouroboros, a new Proof-of-Stake consensus protocol, and significant steps towards decentralisation.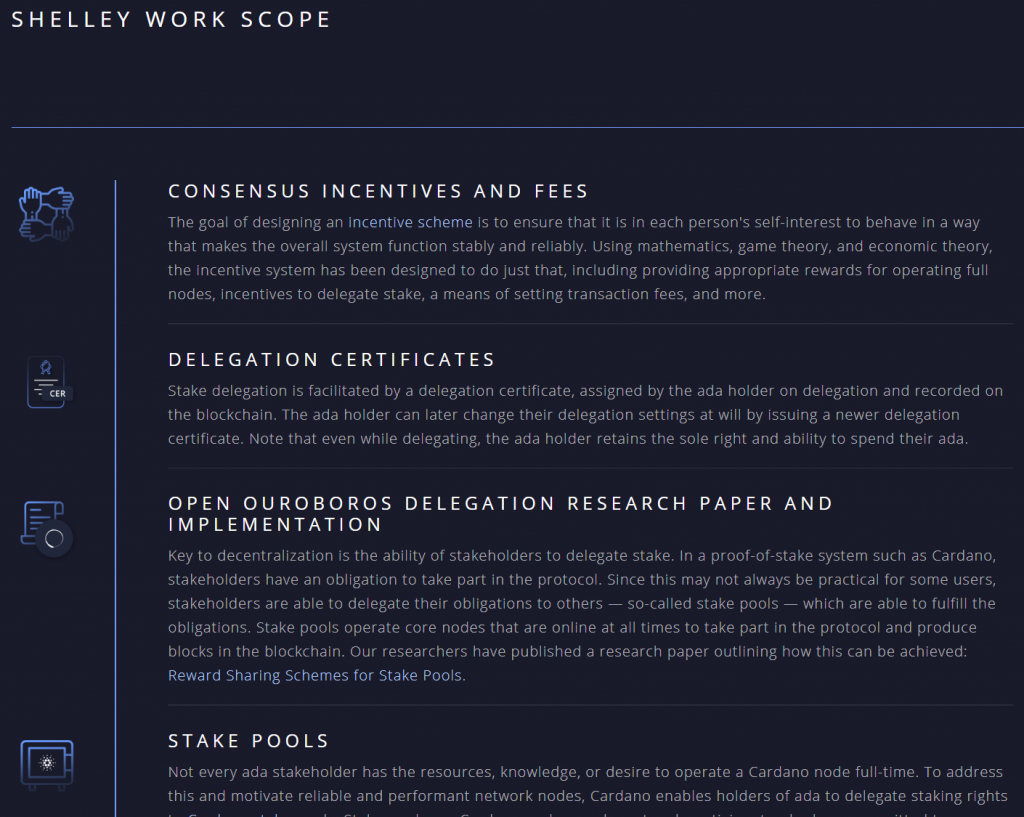 But the team plans to implement plenty of improvements and new features. Just to name a few: faster network synchronisation, changes to wallet backends, which will add hardware wallet support to Daedalus – Cardano's own wallet, first one to be built from a formal specification and tested using formal verification. Moreover, Cardano will make it easy to change between hot and cold wallets, by removing the private key from any hot wallet, effectively turning it into a cold wallet. This will make cold wallets readable with information on transactions and fund, but unable to make new transactions. There's a multitude of features and improvements the team wants to add in this version. The full list (with links to relevant research) can be found on Cardano's website here.
As can be seen, Shelley is quite ambitious in its goals, and therefore, its implementation will be done smoothly over time. This will allow the team to gradually set up the staking pools (explained later in the article), and move towards decentralisation in a controlled way.
Each phase of Shelley will deliver a core component. As the team explains, "The first phase provides the ability to host a Rust self node, or 'blockchain in a box'. We will help you to run your own system locally where you can see how stake pools operate and establish the basic configuration. The second phase is where we connect the various nodes and build out a single unified testnet. Finally, in the third phase, we add in the delegation and incentives scheme to reward participants for honest participation across the network". After the implementation, the team expects Cardano to be 50-100 times more decentralised than other large blockchain networks.
The first testnet of Shelley went live on the 21st of June 2019.
Why Shelley matters
The reasons why Shelley matters come down to its two main goals: moving towards PoS and decentralisation.
Moving to a Proof-of-Stake (PoS) consensus mechanism is definitely positive. Because the way of reaching a consensus is different, PoS uses drastically less energy than Proof of Work (PoW). However, in PoS the probability of you choosing the next block increases with how much coins you hold (your stake in the system). This means that the decision power often rests with the wealthiest participants. One of Cardano's solutions to this issue of PoS, staking, also improves decentralisation.
One of the main goals of this version is to move towards decentralisation. To that end, the testnet allows network participants to try out staking. With staking, stakeholders of the Cardano ecosystem will be able to combine (delegate) their stakes, thus creating staking pools. This leads to the governance of the system being much more decentralised, moving from IOHK to the Cardano community.
Staking and staking pools are a solution tackling both aims of the Shelley update: offsetting PoS' downsides while taking action towards decentralisation (and community governance) at the same time.
Staking pools
How will staking pools work? In a word, quite cleverly.
Each staking pool will have an operator responsible for running transactions. The operators will not be able to spend the stake they're overseeing. Interestingly, the participants of the pool will be free to spend their coins or change their mind and move to another staking pool. In other words, they still control their ADA holdings, but along with delegating their tokens to a given staking pool, they yield their governance rights, which are transferred to the stake pool operator. If that stake pool is chosen to validate the next block, participants will receive rewards proportional to their stake, minus a fee to the operator.
Cardano as an investment
Cardano has quite a dedicated following, which appreciates the transparency of the team, as well as a research-based approach. Some say that Shelley, with its decentralisation solutions, will be a milestone not only for Cardano but for the overall crypto market.
Shelley mainnet is scheduled to go live in August 2019. Alongside version two (Shelley), the team has also started working on the next version, Goguen, which aims to integrate smart contracts into the platform.
It seems that Cardano is a good investment in the long-term. The evolution of the ecosystem goes slowly but surely. Therefore, you can be confident that the team will carry out all the goals it set itself, and that those implementations will be done based on extensive research (within mathematics, economics, and game theory). In the future, Cardano will be a major competitor to Ethereum, alongside NEO and EOS.
If you believe in the future of Cardano, you can invest in it on etoro.
Comments