The economy is changing. More and more people move away from full-time positions and become independent workers, entering a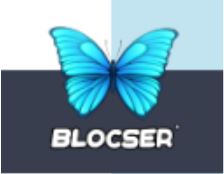 so-called gig economy. And with Blocser, which offers a mobile peer-to-peer (P2P) marketplace solution, working as a freelancer has never been easier.
If you're not an independent worker, you might not know the extent of the gig economy, and how many people actually work on a freelance basis. For example, in 2016 McKinsey reported that 20-30% of the working population in the US and Europe are independent workers. And this number is only expected to rise (independent workers are predicted to make up 50% of the workforce by 2020, according to Forbes). It may be hard to find a full-time position, and the progressing automation will make it that much harder in the future. While 30% of the independent workers would prefer a full-time job, the majority of them made the choice voluntarily, and seem to be satisfied with it, citing increased flexibility and autonomy as major advantages. In fact, one is six traditional workers would prefer to be primarily an independent earner, according to the report (also available as pdf).
At eToro you can trade 49 currency pairs, including several cryptocurrencies.
Join eToro
In the current gig economy (generation 1 gig economy), the companies such as e.g. Uber are huge corporations that take a significant cut of their employees' paychecks. Henrik Danbjørg, the founder and CEO of Blocser, strongly opposes that approach and proposes a solution. Several, in fact; reflecting what generation 2 gig economy might look like.
Blocser Solutions
Blocser offers a number of solutions, which are currently at various roll-out stages (details later).
Business Card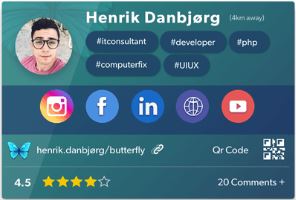 Much needed in the gig economy, as independent workers have many employers over short periods of time. So having an interactive, easily shared business card is definitely a good start.
Blocser's business card includes your photo and name (taken from Facebook when you sign up for the app), relevant hashtags expressing your skills (e.g. #painter; #dancer; #writer, or whichever hashtag you wish), interactive links to your social media profiles, as well as a QR code and a shareable butterfly link.
You can add contacts from the people near you, scan the QR code if you're next to the person you want to connect to, or send the shareable link. If the person you're connecting to doesn't have the app, they see the same interactive card, but on Blocser's page.
From personal experience, I can also confirm that such a business card comes in handy not only for "gigsters", but also people who network often and meet new people frequently.
Prepaid cards
Blocser practices the motto "earn it before you spend it" – they won't provide any banking services in the form of loans. You should earn it before you spend it, according to Blocser values, but before you do, you should have a fair chance to actually earn it. This is why they have decided to launch a prepaid card.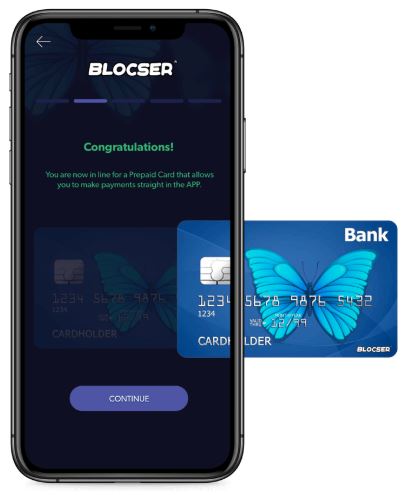 Virtual Card
The virtual card is available for free. With it, using your phone you can easily request payment, make invoices, and pay – which you can do with in crypto, fiat, or cash.
Physical Card (launching and shipping in Q2, 2019)
In order to get the physical card, you have to lock up 100 BOCs tokens for 6 months. BOC will be a security token, and if you hold it you will receive dividends from the revenue share pool.
Crypto wallet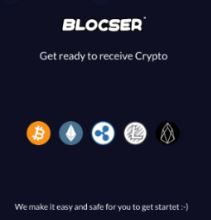 If you wish to make/receive payments in cryptocurrencies, you can store them in the Blocser Wallet. You can also choose any other wallet you want.
Soon, you will also be able to chat (end-to-end encryption coming before 2019), create contracts and bills (invoices), as well as easily pay in one of three ways: cash, crypto, or fiat. Cash is used for transactions outside the app (naturally), and you can make a fiat payment using the prepaid card (mobile solution). For crypto payments, you may use the Blocser Wallet, but you can also choose to use any wallet you want.
Fees
The finance system inside Blocser is a closed loop. Transactions between two Blocsers are free; for any actions taken within the Blocser system, the team receives no cut whatsoever.
Fees apply when you connect with someone outside the Blocser system. So when you for example send a bill to someone outside the system, they will have to pay an additional 2% fee (1% for the financial system, and 1% goes to Blocser).
At eToro you can trade 49 currency pairs, including several cryptocurrencies.
Join eToro
Timeline
Currently available is the pre-release version of the app, which includes a calling card, and the ability to connect with other Blocsers. You can also get in line for the prepaid card. If you sign up in 2018, you will receive 100 app credits for free. In March, 2019, a contracts tool and a rating system (after the gig both sides rate each other) will be launched. Those who ordered physical cards will receive them by May, 2019. You'll be able to trade the token on secondary markets from July, 2019.
BOC token
If you want to engage on the platform, you don't actually need to hold the BOC token. It is a security, rather than a utility token.
Why a security token, you ask?
Blocser aims to position itself as an example of the future work market and the future financial system (P2P work and P2P payments). In order to achieve this, Blocser believes that the ownership should be decentralized, and lie in the hands of the users. The primary reason for creating a security token is to decentralise ownership.
To ICO or not to ICO?
Whether Blocser will carry out an ICO remains to be seen. They secured seed capital a few months ago in September, and recently held a private sale. Initially, they planned to have a two-stage ICO in 2019. However, due to the current market and lack of regulation, the exact details are still in flux.
Roll-out
Blocser aims to start testing the app in the selected markets. Namely Denmark, Poland, and Spain.
Denmark is "overbanked". It is a highly innovative, structured society that's very digitised (mobile payments widely accepted and used). This makes it an attractive market to test how it will behave under the global trend of transitioning into a gig economy. Moreover, Blocser team comes from Denmark and is located in Copenhagen, so the choice of this country seems quite obvious. Poland is interesting due to its high remittance figures. The polish market is similar in this sense to for example Mexico or Vietnam. Spain has a one of the highest youth unemployment rates, and no mobile pay possibilities. It's also hard to find a job. It seems then like a perfect market to test Blocser.
In conclusion, what I like about Blocser:
MVP available
On-time with their schedule (they're ahead of it, in fact)
Flexibility (make payment with crypto and fiat, don't have to use their token if I don't want to, but I can choose to invest in it and earn dividends)
Good execution, thought-out solutions, driven by truly "blockchain" values
What do you like about Blocser?
Comments