I have sat down with the COO of Status, Nabil Naghdy, to talk about mass adoption of Ethereum, Status contribution to it, and its use cases.
What needs to be done to drive mass adoption of Ethereum?
First of all, it should be said that there is already quite a lot of work being put into developing the ecosystem, for example through events, education, and courses. Right now it's important to encourage developers to build either for or with Ethereum, simplify user experience, and, of course, scalability. These things will kick off adoption.
It should also be mentioned that it is difficult to talk about "mass" adoption of anything crypto or blockchain. The technology is still nascent, and the infrastructure needs development. To put it simply, the ecosystem is not ready for mass adoption yet.
To listen to the interview and learn more about Ethereum adoption and Status, follow the link below:
So what is to be done? Build the ecosystem, of course! That's where Status comes in.
What is Status?


Status aims to bring Ethereum to the masses. And, as we will show now, they are tackling the issue from all fronts. They are building a decentralised app (dApp) with several solutions for users, as well as help developers and startups build the infrastructure needed for mass adoption.
They have three main goals: create a secure, private, reliable tool that enables people to communicate, message, and transact without the reliance on third party services, enable people to interact with and access the growing ethereum ecosystem by promoting and enabling access to dApps, and finally, promote the ecosystem through developer tooling and education.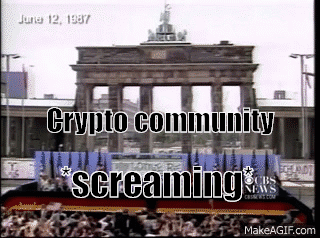 As Nabil explains during our interview, their driving principles revolve around security, self-sovereignty, decentralisation, and privacy, and are at the core of what Status does and builds (you can see all principles that drive Status here)."If you use the net now, you are bound to be tied to services that are like "walled gardens" that hold your data. Status is trying to tear that down", says Nabil.
You can check out Status' vision below:
Status for users: mobile and desktop application
Status' dApp is an application that leverages the ethereum tech stack to enable decentralized messaging, transacting, crypto wallet, and access to web3 DApps. The beta version is available for Android (via Playstore), iOS (users need to install Testflight first), and as a desktop app (in Alpha, offers decentralised messaging only; available here). Let's take a look at the use cases in more detail.
Instant messaging
Messengers have turned into the primary mode of communication online. However, with the contemporary solutions like Facebook, you can't be sure that your data is managed as it should be (who are we kidding, we KNOW that Facebook is misusing our data, we're just using it because everybody else does).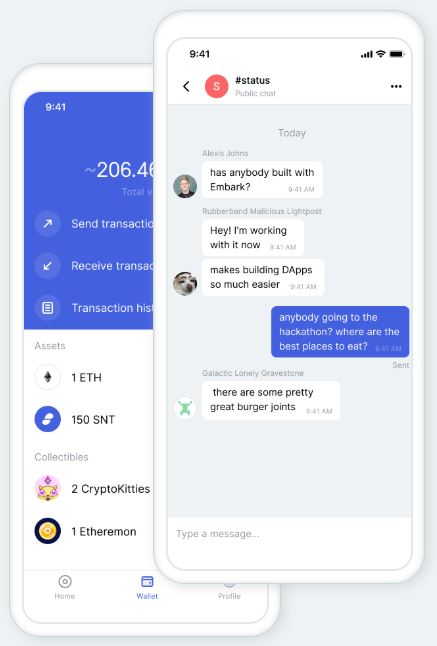 Status offers end-to-end, encrypted one to one, group, and public p2p messaging. The public chats cover several languages and various topics. It should also be mentioned that Status does not use the standard client-server model, which means that no data storage or server farm is storing or processing your messages. Nobody has access to your messages other than you and your intended recipient.
Status uses the Whisper protocol, but their messaging protocol research is ongoing. While Whisper has allowed the team to develop the application, several challenges and issues have been uncovered. Therefore, Status is collaborating closely with other projects such as Web3 Foundation and Validity Labs on better, more reliable, and private forms of messaging.
Wallet
Besides encrypted messaging, Status also provides a wallet. You can see your balance and transact directly with other people. You can also quickly add other assets.
Ethereum Name Service (ENS)
To make it easier for yourself to transact, you can take advantage of the Ethereum Name Service (ENS). By locking up 10 SNT (Status native token, explained later) and paying a small amount for gas, you can simplify your ETH address from the long line of letters and numbers into something way easier to remember, e.g.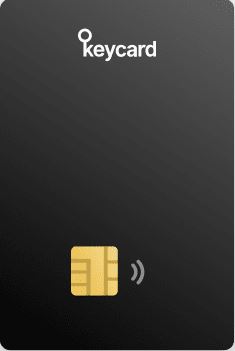 janedoe.stateofus.eth. You can find instructions on using ENS in Status here.
Speaking of finances, Status is currently taking pre-orders for their upcoming Keycard. Contactless and compatible with both mobile and desktop, the Keycard can be loaded with cryptocurrencies and used similar to a debit card, thus providing a familiar experience for crypto beginners. Moreover, it provides an additional level of security by allowing users to store their private keys offline. When you want to sign a transaction, you'll be able to simply tap on the Keycard to approve it.
Status wants to give out the first 1000 cards to developers who want to build features on top of it. You can pre-order it here (hurry, they're almost gone!).
Dapp browser
Similar to any other app browser, Status dApp directory allows you to discover new applications. They are currently sorted by category: exchanges, marketplaces, fun & games, social networks, media, and utilities.
With just these three use cases, Status has become a gateway for free trade, P2P transactions, and encrypted peer-to-peer communication. All you need is a smartphone and internet access.
At eToro you can trade 49 currency pairs, including several cryptocurrencies.
Join eToro
You can see these major use cases of the Status application in under a minute below:
SNT token functionality
Status Network Token, SNT, has several applications. It is needed to choose and receive push notifications, register a username, and deploy a semi-public token-based group chats.
When it comes to push notifications, Status allows users to choose which nodes they prefer for service, which push notification provider they want to use, or whether they want to opt out completely. Now, you may think that "oh, but I use this free product that gives me push notifications free of charge". Well, be aware that if the product is free then you're the product. Status takes the approach of giving the choice to the user and creating a de facto push notification market.
An important part of the SNT functionality is governance. Status gives the power back to the users, who with their SNT voting dApp decide the direction of the project. It's also essential to their long-term goal of becoming a DAO (Decentralised Autonomous Organisation), which would allow the project to be run entirely by its community. The app uses quadratic voting (explained in one of our previous articles), which ensures that people with more tokens don't have a louder voice.
With a micro-deposit in SNT tokens, users can also moderate Public Group Chats, by creating semi-public token-based group chats. Here's how it works: let's say you want to open a discussion with users who hold Bitcoin and Maker. Users who want to join the chat need to prove that they have a minimum economic stake in the token (or a set of tokens, as in this example), which will decrease fake accounts (so called sockpuppets).
Upcoming use cases:
Tribute to Talk is an interesting anti-spam tool for receiving "cold" (first time) messages from users. You'll be able to set a stake in SNT needed to make contact with you from someone outside the network. If you get a message and reply, the staked tokens are transferred to you. This may be used to contact high-profile people or monetise your fan base.
Millennials love emojis and stickers, which have also proven to increase user engagement in messaging apps. The Sticker Market within Status will allow every user to create and sell their own sticker. Users will need SNT tokens to participate in the market.
Status Teller Network aims to decrease the difficulty of obtaining cryptocurrency. The Network will allow users to find other users nearby to exchange cash for digital assets and currency. This has significant potential in developing cash-based economies struggling with high costs of remittance.
Status is also researching a User Acquisition Engine, which aims to help grow the user base. Advertisers will pay Publishers to run ads. The payment is made in SNT on a cost-per-action basis. As Status strives to make this process more transparent, as well as better align participants' incentives, there are still many moving parts and the structure of it may change.
Status for developers: funding projects and helping #buidl the ecosystem
Status is making it easier to start engaging with cryptocurrencies and Blockchain by providing a beginner-friendly app. However, onboarding new users is just one side of adoption. Before we can start talking and striving for bringing as many people into the ecosystem as possible, the ecosystem itself needs to be ready for the masses. Therefore, Status provides a number of projects for people who will actually build the needed infrastructure. Let's take a look.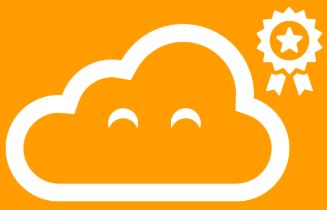 Nimbus is a research project and a sharding client (within Blockchain, sharding refers to the process of splitting data so that each node carries only a part of it, insead of all the information). It aims to tackle the issue of scalability. And ultimately, the goal of Nimbus is for it to enable running an Ethereum blockchain on a low-energy device such as a phone. Nabil is really excited for this project, and has shared that they are around 18 months from completion.
Embark is a developer framework to build, test, and deploy smart contracts. This modular framework takes care of the ground work, watches for changes, and redeploys your application when needed, and leverages easy to use Debugger and Testing tools. You can even go beyond smart contracts if you wish, as Embark also allows for integrations with decentralized services such as IPFS and Whisper. Check out Embark's page for various tutorials and tools for developers.
Incubate, just as the name suggests, is an incubator for early-stage open-source projects. Status focuses on those companies that share their values, and provides them with pre-seed funding, mentorship, and infrastructure. Thus advancing the Ethereum ecosystem and quickening its adoption.
Comments